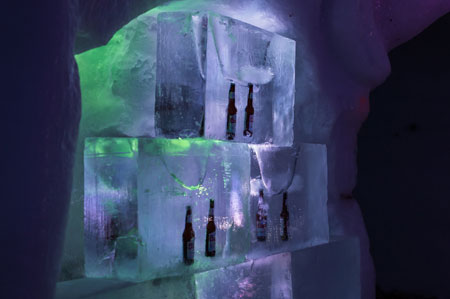 Our Event Igloo has a diameter of 8 m and a height of 6 m.
The interior can include:
Snow or ice bar
Wooden log chairs with sheepskin covers
Extra niche for additional seating
DJ niche
Atrium with a big screen
And a lot more...
Logos can be carved into the snow walls or encased in blocks of ice. They can be up to a size of 4 m and will be illuminated with colourful LED lighting.
Further services:
For an exclusive presentation, we can freeze one or more of your products into blocks of ice
The snow or ice blocks are illuminated with the colour of your choice to display your product in a new light
Our event igloos offer the perfect venue for media events, product presentations, photo shoots, parties, VIP events and incentives.
Impress your clients or employees with an unforgettable adventure in a unique environment.
Our igloo construction team can build a custom igloo for you. Click here to see our references.